with AltroFood, almond ricotta, basil, and pine nuts
(for 10 people )
Ingredients
500 g of pre-risen focaccia dough
200 g of AltroFood Plant Burger Pro Mix
1 onion
1 carrots
1 celery stalk
400 g of tomato passata
100 g of red wine
200 g of almond ricotta
100 g of pine nuts
basil leaves
black pepper to taste
nutmeg to taste
extra virgin olive oil to taste
salt to taste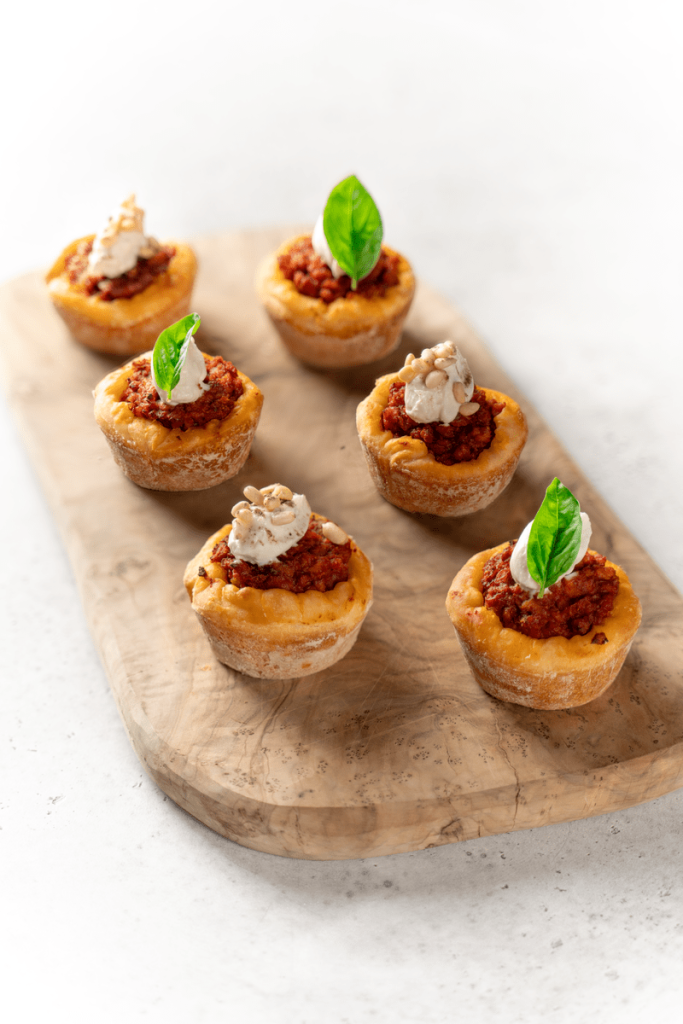 Finely chop the onion, carrot and celery and fry them in a pan with plenty of extra virgin olive oil and a pinch of salt. Add the preparation while still dry and lightly toast it. Deglaze with red wine and, once the alcohol has evaporated well, add the tomato puree.
Cook for about 30 minutes, adding a little water if necessary. The ragù should be very dry. Complete with grated black pepper and nutmeg. Remove from the heat and chill until cold.
Roll out the focaccia dough with a rolling pin to a thickness of about 1cm and cut out disks of about 7cm in diameter. Place the disks in a well-greased and floured muffin tin, pressing well with your fingers so that the dough sticks well to the edges. 
Fill the baskets with the ragù and let them rise again for about 40 minutes.
Bake in the oven at 170-180°C for about 20 minutes. Allow to cool for a few minutes and remove the baskets from the moulds with the help of a small knife.
Serve the baskets, decorating each one with a quenelle of almond ricotta, the pine nuts, a basil leaf and a few drops of raw extra virgin olive oil.