(for approximately 10 portions of lasagne)
Ingredients for the ragù
150 g of beef flavour AltroFood Plant Burger Pro Mix
2 white onions
1 celery stalk
1 large carrots
200 g of red wine
2 tablespoons of tomato paste
1 l of tomato passata
700 g of water
1 bay leaf
black pepper to taste
nutmeg to taste
1 lemon
salt to taste
extra virgin olive oil to taste
For the pasta
200 g of remilled durum wheat semolina
100 g of semi wholemeal flour
140 g of water
1/2 teaspoon of turmeric
salt to taste
For the béchamel sauce
2 l of unsweetened soy/oat/almond drink
200 g of extra virgin olive oil
170 g of wholemeal flour
15 g of salt
3 tbsp. of nutritional yeast
black pepper to taste
nutmeg to taste
To finish the dish
The pasta
The ragù
The béchamel
Extra virgin olive oil to taste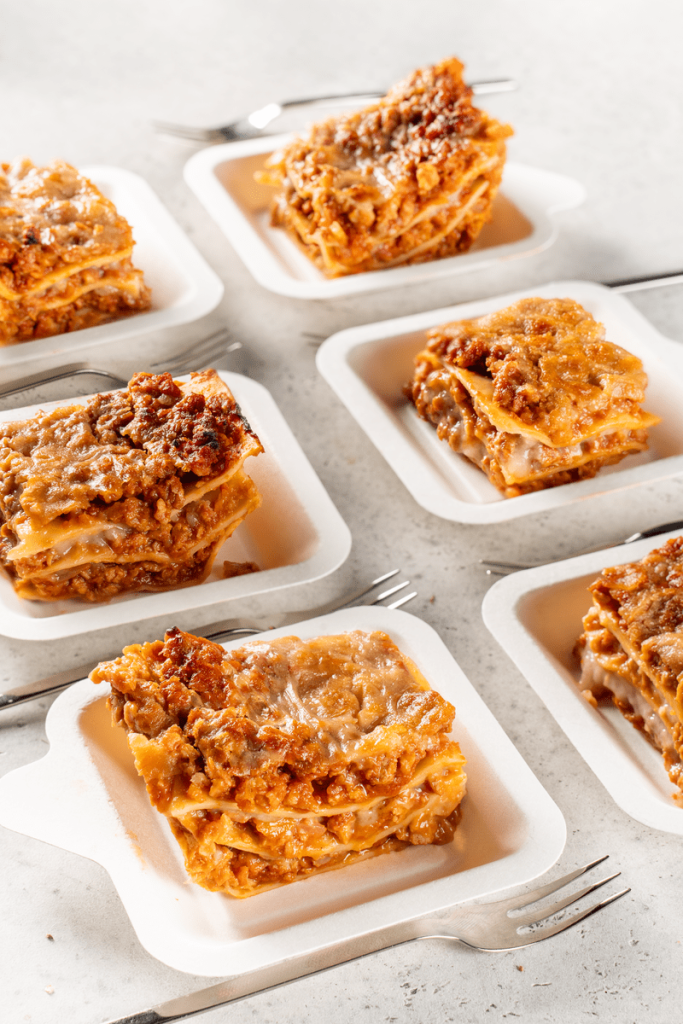 For the ragù: finely chop the onion, celery and carrot and brown them in a pan over a low heat with a generous amount of extra virgin olive oil and a pinch of salt for about 15-20 minutes. Add the beef flavour AltroFood Plant Burger Pro Mix and toast it for a couple of minutes, stirring well. Turn up the flame and deglaze with red wine. Once the alcohol has evaporated, add the tomato paste and then the passata. Dilute with water and add the bay leaf. Simmer for about 40 minutes, adding salt to taste. After cooking, season with pepper and nutmeg. We recommend a resting time of at least two hours before use.

For the béchamel sauce: cook the oil and flour in a saucepan for about 10 minutes, stirring with a whisk. Leave to cool. Separately heat the vegetable drink, seasoning with spices and a pinch of salt. Just before boiling, pour the drink over the lukewarm water and flour roux, stir quickly with a whisk and cook for a few more minutes. Off the heat, add the nutritional yeast. Leave to cool.

For the pasta: Combine the flours and a pinch of salt in the planetary mixer and knead at medium speed with the dough hook or the paddle attachment, pouring in the water until the dough is elastic, smooth and firm. Wrap in cling film and leave to rest in the fridge for at least 40 minutes.

To finish the dish: roll the dough into thin sheets about 2-3 millimetres thick, flouring them well. In a large baking dish, spread a little béchamel sauce on the bottom and a little ragù to prevent the pasta from sticking. Layer the pasta, ragù and béchamel sauce. You should have approximately 4-5 layers of pasta. Finish with the ragù, béchamel sauce, and drizzle with a little extra olive oil before cooking. Bake in the oven at 170-180°C with 10% steam for about 45-50 minutes. Leave to cool before serving.